Payment Initiation Services are nothing new
New PISP-services that provide an instant payment offer nothing new over the iDEAL service which was already stable and well known before PSD2 came on the scene. Most companies have iDEAL in place and everyone who's ever shopped online in the Netherlands knows what iDEAL is.
So, if a new PISP-service offers the same payment functionality as iDEAL, what's the point of using it? In theory it could have potential if it offers more flexibility and functionality: creating a periodic payment or a scheduled payment for instance.
Fintechs like Klarna and AfterPay are examples that expand on the iDEAL service. You still make the actual payment with iDEAL but they give you the freedom to enjoy your purchase without paying for it immediately. And they don't ask you to pay any interest for the first month. It's like a credit card service without the extra costs. Only if you pay on time that is. Which is very convenient, but it does raise a new problem.
Control over your finances?
Currently if you have no money, its easy. You can't make a purchase. If you want to pay later but don't have the money later, you'll end up in debt because interest will be calculated on top of the initial purchase. And that added interest can be steep. This service is fine for users that are in control of their finances or take action after an extra notification via their app or email. What worries me is that for users that don't have control over their finances or forget to pay, this extra convenience could become a big problem. Especially for their target audience, namely the younger generation (Gen Z) who are less 'in control'.
This aspect of not being in control over your finances emerged in a recent study we performed among students aged 18 to 25. More about this later…
What about Account Information Services?
There are also a handful of AIS services available in the Netherlands. Mostly these services focus on creating expenditure books that give a great overview of all your expenses in different categories and across multiple bank accounts. Some also offer options to create your own financial goals or special tailored plans that help you reach those goals. Dyme goes further and shows you an overview of recurring payments, like subscriptions, that you can cancel without contacting the company in question. Just simply choose the subscription you want to cancel and Dyme will handle the cancellation by sending an automated template to the company in question on your behalf Mine offers a similar kind of service where they automatically track which company holds your personal information and ask you whether you want those companies to keep this info. By a simple press of the 'Reclaim' button, Mine generates an email to the company asking them to delete your personal information. These automated processes make it easy for you to cancel a subscription or reclaim your information without the hassle of contacting the companies yourself.
Much innovation potential still to be mined
These are some nice additions to traditional financial services and they extend the overall customer experience. But are they innovative? I would say, yes, a little. But there's still great potential for more innovation.
A great example of an innovative initiative is Flow your money.
With this app you can just automate your savings, budgeting and investing based on self-made triggers. It kind of works the same as the famous automation app IFTTT (If This Then That).
In both apps you can simply make a trigger: If [Something] happens do [Something]. In Flow your money you can, for example, make a trigger when your salary comes in to automatically divide money over categories you've defined, put some money in your savings and send the rest to your investment account. This not only saves you time but gives much more control on how you want to spend or save your money. Plus, it removes the human error of forgetting to do it yourself.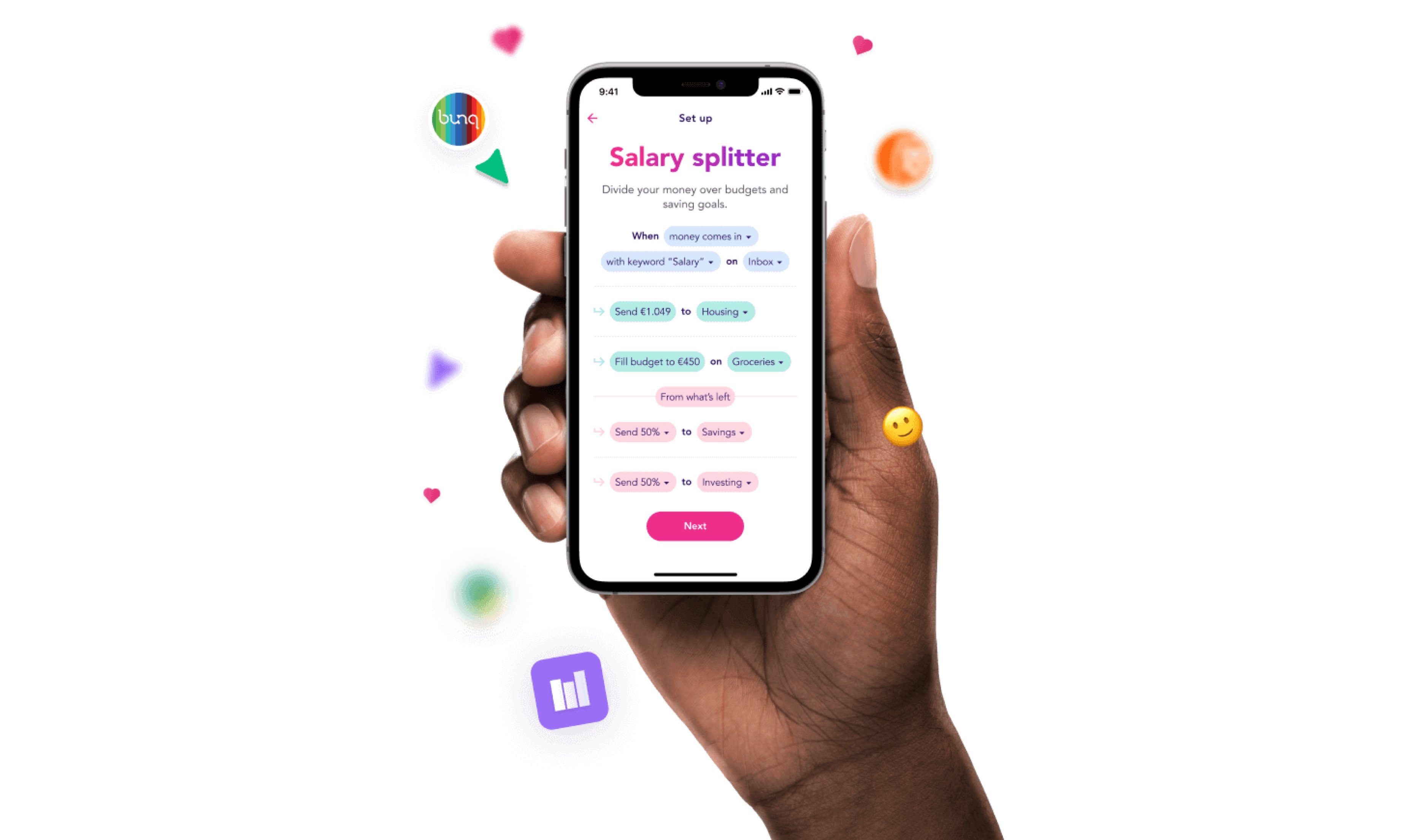 Another nice example is the Buddy app.
Buddy is a digital budget coach that helps people get a grip on their finances by adjusting their expenses based on their income. It provides financial support and keeps people out of money problems and debt. The user can ask Buddy everything about their bank account, social allowances and benefits by just having a chat with the AI. The app also gives a signal when there are personal changes that will affect someone's social security benefits. For more complicated questions that the AI can't solve, the user is redirected to a helpdesk. The app is currently aimed at low-income users but it could have a stronger societal aspect of giving more control to people who are not financially 'literate'.
Just imagine the huge potential if this AI is fed all the rules of the whole government welfare and allowances system. If the app were directly connected to the Dutch tax authority (Belastingdienst), theoretically it could tell you how much money you are entitled to from the government or even better, just adjust it for you. Which could basically help everyone! It might even prevent another benefits scandal.
But – and there's always a but - creating a good budget coach is quite hard to do. Let's look at an example we worked on.
Student budget app
At Keen Financials we also discussed the topic of a budget coach and created something similar. Our target audience was students aged between 18 and 25 that live on their own or are about to.
A study by CBS (Statistics Netherlands) has shown that average student loans have increased substantially over the years.
Our own research with 50 students in the biggest cities in the Netherlands showed that 95% of the students don't really have a grip on their personal finances. Most of them don't really know how much they spend and what they are spending on. On average they estimated their expenses at 240 euro less than they actually were. The reason is that they don't have recurring payments and usually spend money on small items that change daily. 60% of the students also draw a maximum loan from the provider DUO and only one respondent could tell us how high their current student loan was.
We created the Student Budget app that keeps track of your finances and provides discounts based on what you spend in your favourite stores.
This is nothing new. But using that financial data to generate a savings plan to pay back your student loan or giving notifications to stimulate you to start saving or change your spending behaviour, is a new and innovative way to help people be financially healthy. Along the way we decided that our original idea to generate discounts for their favourite stores to save money would in fact lead to even more spending, which is the opposite of what we are trying to achieve. This led us to add rules based on specific situations. In one situation we use discounts to stimulate money saving offers; in another, we add a small informational tip about smart spending.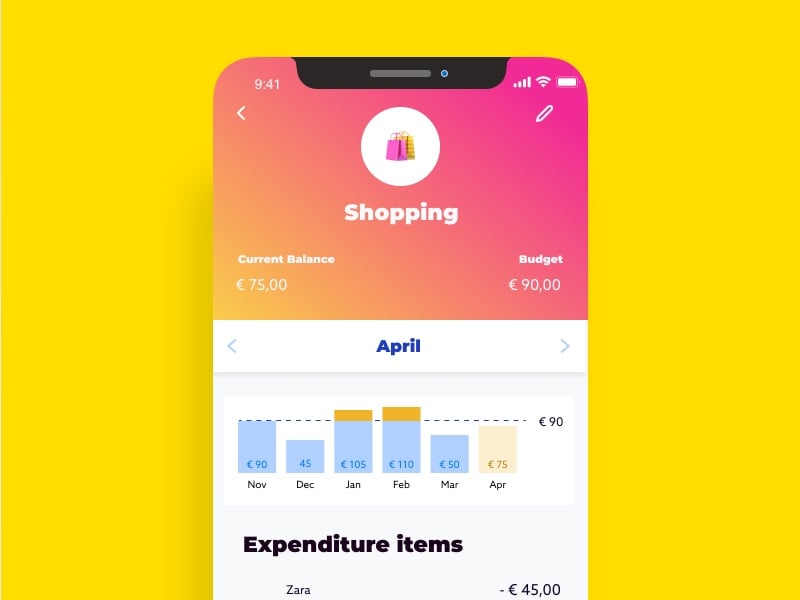 What's next?
Since the Netherlands payments landscape is so much dominated by iDEAL it's hard for new fintechs to really break through with their payment services. Expanding on those services, as fintechs Klarna and Afterpay have done, can lead to massive growth but poses a huge risk for people who are less in control of their money. Apps like Buddy and Flow your money could potentially lower these risks and help people stay out of debt.
I believe there's still a lot of potential out there. I've yet to see a store where you can just leave with a product and automatically pay via sensors. Although supermarket Albert Heijn was testing it a few years ago, nothing has been heard of it since. Next year Aldi will start testing so maybe it's closer than we think.
I'm also curious about services that could connect with the tax systems or the social welfare system in the Netherlands. They have the potential to really help everyone that lives here. Or what about a service to make the mortgage process smoother that automatically checks for better deals every year and lets you switch provider with just a few clicks?
Do you have any innovative new ideas that can shake up the financial industry? We at Keen Financials would like to meet you to discuss these ideas and help translate them in something concrete that could create value in people's lives.