The BCG matrix has been around a long time and has been much analysed. In this blog we contribute to the discussion from the perspective of our own expertise: user experience design. Our question: what user-experience design actions will help you take the next strategic steps for each quadrant?
We give tips on how a user experience design perspective can inform your product strategy in each quadrant of the matrix. We also indicate how you can take a value-driven design approach in each quadrant.
A quick refresher on the BCG Matrix
Developed in 1968 by Boston Consulting Group (BCG) this tool for product portfolio analysis still has relevance today.
"The growth share matrix is, put simply, a portfolio management framework that helps companies decide how to prioritize their different businesses." – BCG.
The matrix has two axes and four quadrants. The horizontal axis describes relative market share, the vertical axis shows market growth rate. The four quadrants are:
Low growth, high market share – Cash Cows

High growth, high market share –Stars

High growth, low market share – Question Marks

Low growth, low market share – Dogs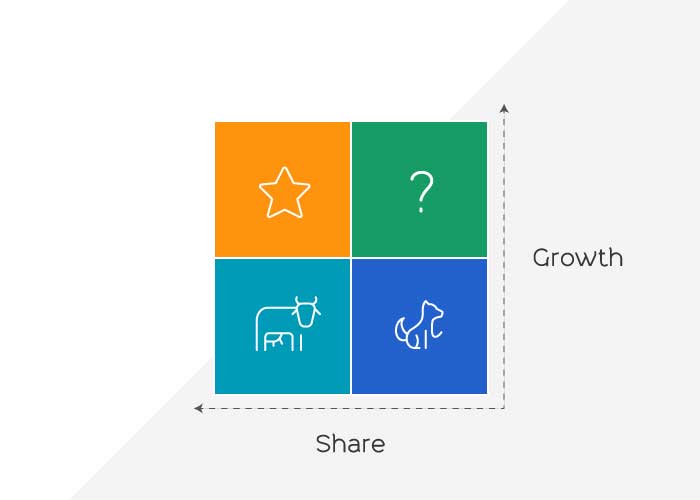 Cash Cows
The term Cash Cow is used to signal that in this phase you should 'milk' the product. In other words, maximise product returns which you can then invest elsewhere in the portfolio.
If you adopt this model, you won't invest much more in a Cash Cow because its potential over time is limited. Your focus is on putting the profits into your next Star product or Question Mark.
User Experience Tip
Make limited investments and modernise the product screens to extend the life of the Cash Cow.
Here you're not looking to improve the product itself. You just want to make it more appealing to users who like to see something new and attractive. This is more about a Design Update than about improving usability. It's only the tip of the iceberg when it comes to user experience design. But it can extend your product's life. And help you keep up with the competition whose products may look good but don't perform as well as yours.
Value Driven Tip
Users are happy with this product but frustrations with some aspects could cause them to shift to a different product. Think of the type of frustrations customers post in online reviews or mention in customer surveys. You can extend the life of your Cash Cows through targeted action to solve the issues - with minimal effort. If you take users as your guide, you'll remove the cause of their frustration and keep your customers on board.
Stars
You'll want to retain and further develop your stars. After all, they already have a big market share and there's even more potential for the market to grow. There is still lots of profit to be made even though the market and product have already proven themselves.
You need to make significant investments for your Star products to retain their star status and market position. Various factors will influence how you do this in practice.
User Experience Tip
If you have a star product but the technology is outdated, you're probably considering replacing that technology. So if you're going to make that investment anyway, why not take the opportunity to improve the product interface right away? That will keep you ahead of challengers and raise the barriers to entry for new players.
A product Redesign is the solution you're looking for here.
Value Driven Tip
Your product is in the star quadrant of the BCG matrix because it adds value for customers and users. Review your sales channels to check for stakeholders who could help you grow your market share. Maybe your product is the perfect fit for a big consultancy firm's services? If so, find out precisely what made them choose your product, then create opportunities for product developments that add value for these types of partners or resellers.
Question Marks
The tricky thing about Question Mark products is that you've no idea if this product will be successful. The quicker you find out, the better.
User Experience Tip
This might be exactly the right time to do a Design Sprint, particularly if you still need to do development work to expand or redevelop the product. In less than a week a Design Sprint helps you to explore the best way forward for your product and test that solution with users. The Design Sprint process was developed by Google Ventures (Google's investment company) specifically to help teams turn ideas into prototypes in two-to-five days.
Value Driven Tip
In this phase you still have the opportunity to identify your stakeholders and the value(s) they consider most important. Use that value as the foundation for future development. And implement a measurement process so that you stay adaptive as you transform the product into a Star.
Dogs
BCG describes products in this category in the same way you think of a pet. You keep it for its emotional value, but it costs you money to maintain. In English, the term dog also has a negative connotation - something that's no longer attractive or has lost its worth. The BCG matrix tells you to drop the Dog from your portfolio. But what if you're not yet ready to do that?
User Experience Tip
Use your 'Dog' as a steppingstone to a new investment. Conduct a User Research project to find out which parts of the product have value that can complement or be reused in a different product – whether it's new or not. In this way you can reincarnate the dog in a different product. And help the customers you already had for this product.
It could be very interesting for your user research to focus on new developments in the "white space" of your Dog product. For instance, chicken farmers who sell eggshells because they can be used in other products. There's actually lots of potential for innovation in the Dog phase even though most people don't even consider looking for it.
Value Driven Tip
Apply Value Driven Development to find out how you can make targeted improvements to your product to increase its value. In principle you can limit your search to low-hanging fruit and minor improvements, given the investment required. Of course, the goal should always be to imbue the product with enough value for all stakeholders. This way you ensure that the product will still generate sufficient returns.